KOLONA
Kolona is an archaeological place and due to its findings, history has information on Ancient Aegina. It's located on the left from the harbour of Aegina and it was the Acropolis in Aegina in the Ancient times. It was the religious and political base of the city. It was named after it's only pillar which remains until today. Kolona was first inhabited in 3500 b.c. which was the copper era.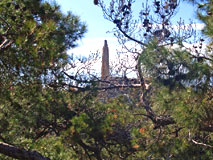 The settlement was protected by a wall which was built in 3000 b.c. The settlement was destroyed about ten times and it was re-built.
The northern walls have been saved which were built in around 1600 b.c. along with some ruins that are dated back to 1300 b.c.
In the southern part there are remains of Byzantine buildings and priests' residences.